Branding has always been important to me. My first job out of college was as a Brand Manager at the open source technology company, Red Hat. I was fortunate to have a front row seat as an incredible team of designers, copywriters, videographers, and art directors crafted an approachable, confident and friendly brand serving the enterprise software category. Open source software can be a complex concept, especially back in the early 2000's when it was still in its infancy. But our team pulled off a masterful execution which lives on to this day. In fact, I believe Red Hat's strong brand personality is one of the reasons it became IBM's largest acquisition in history at a massive $34 billion in 2019.
So what is a brand and why is it so important? In short, a brand is the personality of a company. It's the core values that guide it. It's the identity it presents to the market. It includes everything from its tone of voice to its visual design. A brand is what a company stands for, and how it stands out, how it behaves. Without brand values as a guiding force, a company can get lost. Which is why it's critical to nail those values down from the very start.
A common first step in branding is to map the landscape of the category you're serving. So for Trusty, we think about the values of the real estate industry. Real estate is all about a sense of home, something everyone can relate to. Homes come in all shapes and sizes, but the common element is a feeling of belonging and connectedness. It's a place to feel comfort and safety. A home is an extension of a person's own identity. The foundations of real estate are rooted in these positive core values and emotions
But there's another side to real estate. Real estate can be a lucrative profession for agents and this can lead to some less than positive qualities. As a business, real estate is notorious for opacity where agents strive to maintain control by restricting the information available to buyers and sellers. And since agent compensation is commission-based, they're motivated to get the highest price whether they're representing the buyer or the seller. This injects an incredible amount of bias into the information available to consumers, which shows up in the form of professionally staged homes to distract buyers from issues, flowery language to seduce buyers, and photoshopped imagery to create unrealistic expectations. The result is superficial and phony content that seems "too good to be true," a construct that's been difficult to break since, as an industry, real estate is designed in the best interest of agents, not consumers.
Trusty's aim is to be the first consumer-centric source of trusted information in the residential real estate category. We're shattering the one-dimensional, curated, agent-centric bias we see populating every real estate portal around, in favor of an honest, genuine and authentic experience for the consumer, where consumers are in control. We're delivering this through superior technology that's accessible to any buyer or seller. When you think about technology, the core values that guide it are openness, collaboration, transparency, and innovation -- much like the brand I helped develop at Red Hat.
So as we mapped the real estate category landscape, we saw a big white space where the Trusty brand could live and thrive...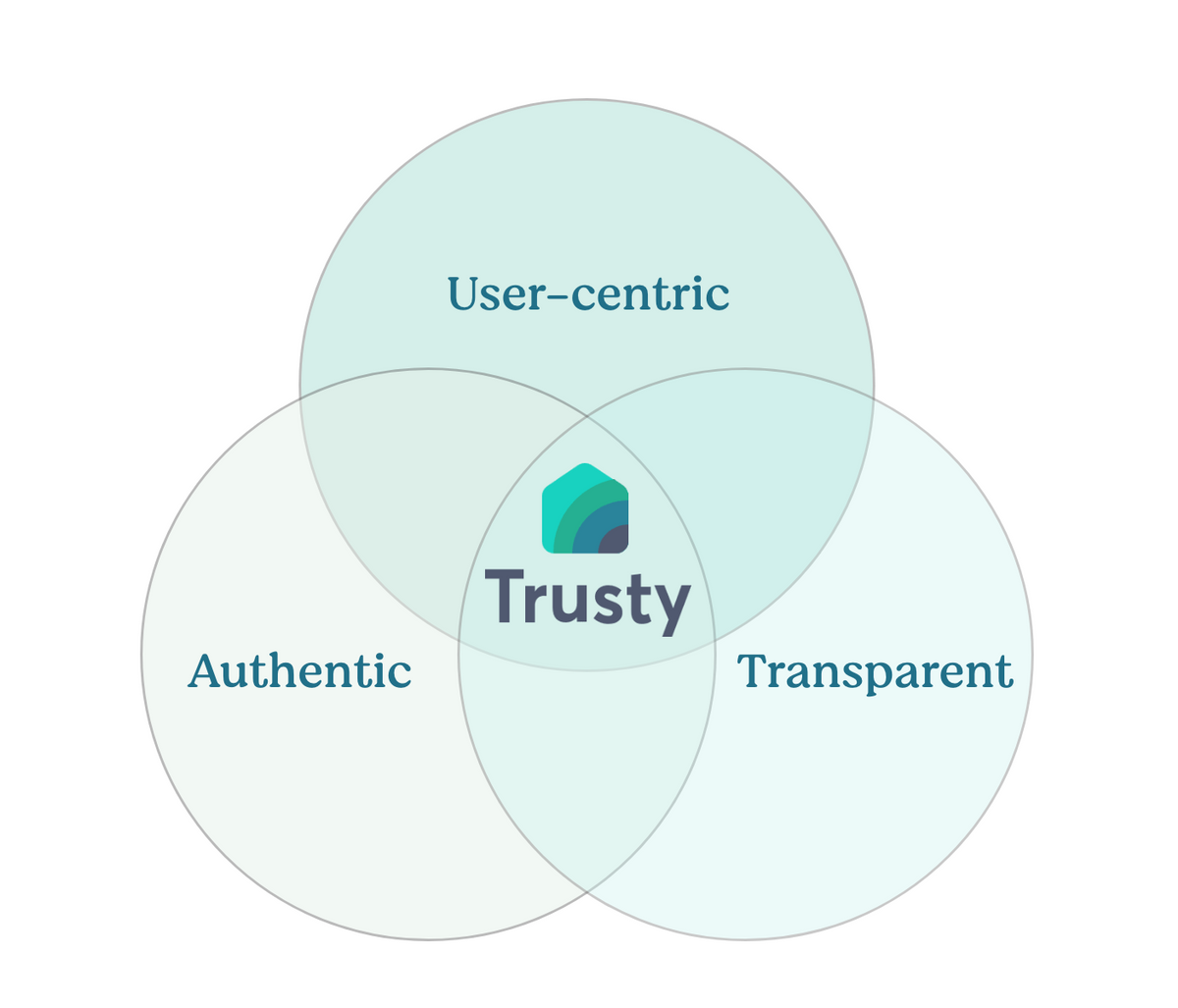 In a category that is agent-centric, Trusty represents the consumer, both as buyer and seller. In a category that is notorious for restricted access and one-sided information, Trusty provides multiple, unfiltered perspectives and transparency. In a category where compensation is designed to reward the agent status quo, Trusty encourages a modern, competitive marketplace and transparency in compensation.
We sum that up in our mission statement: To bring transparency and authenticity to real estate information through the unfiltered perspective of multiple, diverse opinions. And to save buyers and sellers money along the way.
Quite simply, these are our guiding principles as a company, and our north star when making decisions about the business and product. Trusty is taking the best of real estate, and the best of technology, to create a transformative brand that brings everything forward -- especially the consumer.