When we decided to leave San Francisco for the suburbs, I learned why there's no replacement for local market expertise when buying a new home.
Movin' on out
By the time we had our second child, we had outgrown city life in San Francisco. We were starting to think about schools and having more space for the kids to run around. By this point, we'd lived in the city for seven years and, although we knew it inside and out, we didn't know much about the many areas surrounding SF. When it comes to suburbs, the Bay Area has a lot to offer in terms of options, each with pros and cons. To the south, the Peninsula offers idyllic towns with walkability and amazing options for working professionals who can get just about anywhere from Silicon Valley to San Francisco with minimal commute times using the CalTrain or one of two freeways running through it… not to mention having SFO airport in your backyard. Drive east over the Bay Bridge to the East Bay which boasts an array of diverse neighborhoods and suburban lifestyle with easy access to the City via BART and the convenience of an international airport in Oakland. Head north over the Golden Gate Bridge to Marin where you're greeted by breathtaking protected natural wonders surrounding highly rated school districts, and easy access to wine country. The main criteria for us were great schools, a neighborly community, and easy access to San Francisco. Turns out, you'll find these in each of the locales, so it really comes down to personal preference.
In the spirit of keeping an open mind, we chose to cast a wide net and look everywhere. We quickly learned that it was not a good idea for our prior real estate agent from San Francisco to represent us in the surrounding suburbs since each has its own unique nuances that only an insider would know. For example, which was the most coveted street to live on in any given town? Or which pocket of a neighborhood received the best sun exposure? Or where should you live if you want your kids to be in the competitive swim program? These types of questions are best answered by a real estate agent who knows the hyperlocal market better than anyone else. So we reached out to contacts who lived in each suburb and got referrals for agents in both the East Bay and the Peninsula (we waited on Marin since we originally worried it was too far from the airport).
Let the home tours begin… or not so fast
Let the home tours begin, we thought. But our local agents didn't want to put the cart before the horse. Rather than rushing us into homes off-the-bat, the agents sat down with us, interviewed us, got a sense for what mattered to us, and ultimately took us for a ride in their car. But before we saw a single house, we simply drove around. We were taught the differences between the neighborhoods (and sub-neighborhoods) within each town. We were shown where school district boundaries lay and why home values could differ significantly depending on which side of the line a house resided. We got a sense for where the main town was and how close public transit options were. We drove by recently sold properties to get a sense for price ranges. We even made stops at local eateries. It was incredibly informative, and instantly showed us the value of having a local realtor who understands a market intimately. Had we decided on the Peninsula or East Bay, the realtors' time spent educating us on the local market would have earned them our business.
Despite all that planning east and south of San Francisco, we ended up moving north to Marin. And in spite of our lessons in the value of a local realtor, we found our future house without an agent while randomly taking the kids on a drive so they would stay asleep in the car during their nap time. We happened to get off the highway at an exit for Mill Valley that we weren't familiar with, saw an "open house" sign, and pulled into our future driveway. We took turns going into the house one-at-a-time while the other sat in the car with the sleeping kids. It was a historical home from the 1880's that we thought had incredible potential. It oozed with character -- we were both blown away. It also happened to be across the street from the town's main elementary school, and we could already picture our kids walking to and from school. We were sold. The only problem: we didn't have a local agent in Marin.
Local market expert to the rescue
Fortunately, some friends connected us to their agent who took our call that evening. The agent could tell right away that we were not super familiar with the area, that we just really liked this house. He was right. Despite his efforts, we had no interest in him showing us other homes in Mill Valley that were not that house. By the following day, we learned that the house of our dreams was under contract with another buyer. We were sad and declined the agent's offer to tour us around. We took it as a sign that Marin wasn't for us. Back to exploring the 'burbs east and south of SF. But a few days later, the Marin agent called us with news that the buyers had fallen out of contract and the Mill Valley home was back in the picture. Once again, we took it as a sign and promptly scheduled time to see it again, this time with an agent. We were instantly convinced about the house, but the agent insisted on touring us around town. Like we did in the other suburbs, we learned the nuances of Mill Valley. How walkable were we to town and nearby parks? What were some similar homes in our price range that recently sold? What were the local hot spots? Turns out, we fell even further in love with the house by getting a picture of the surrounding town. It was time to put in an offer.
This is where having a local expert really came in the clutch. Since he was very active in the local real estate community, he knew all the other agents, including the listing agent with whom he had an existing relationship. That gave us an inside edge against any other prospective buyers, and allowed him to get a sense for how competitive our offer would need to be. As a respected agent in a small town, he had a rolodex of quality service providers to call upon when we needed an inspection and a contractor to estimate what repairs may be needed. This allowed us to move quickly and make an educated offer to the sellers. When it came to financing, he had a local mortgage broker to recommend. He even connected me directly with a representative from the County of Marin regarding a property-related question we had. In the end, we got the house under asking price and even got money credited back to us at closing.
My takeaways
Some people question the value of agents in today's world, especially when you find the house yourself. But in reality, there's so much that goes into the transaction -- from offer to close -- that deserves the expertise of a professional. Someone who has the pattern recognition to spot red flags and capitalize on opportunities to make and save money for their clients. In my experience, finding the right local agent -- on either the buy or sell side -- is key to a successful transaction.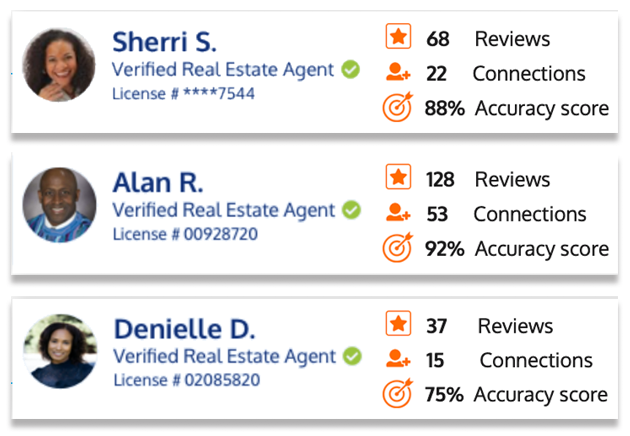 Trusty is a platform for home buyers to identify and connect with agents who are hyper local experts. Agents share their local market expertise through their detailed home and neighborhood reviews, so you can see for yourself how many listings they've toured, the number of local reviews they've done, and their accuracy in judging the local listings on sale price and time on market. On Trusty, you can have confidence that you're connecting with agents who live and breathe their local market… who can answer the specific questions you have, and give you the kind of "insider" track to make both the home buying process, and the end result, a success.
In the end, I believe there's no replacement for the local perspective.