You're considering selling your home. So many questions. How much has the house appreciated since you bought it? What improvements should you consider for optimal presentation and potential upside? When's the prime time to sell for maximum price? Should you vacate the house and pay for staging or try selling while living in the house? What's the best marketing strategy to get in front of the right buyers?

When seeking answers to these questions, most home sellers go right back to the agent they bought the house with since there's a pre-existing relationship. But this isn't always the best decision since a lot changes in the market and your previous buyer's agent might not make the best seller's agent. Another option is "for sale by owner" which would save a lot of money in agent commissions. You decide to try this first since you can always fall back on an agent if needed.

So you try your hand at researching answers to your questions.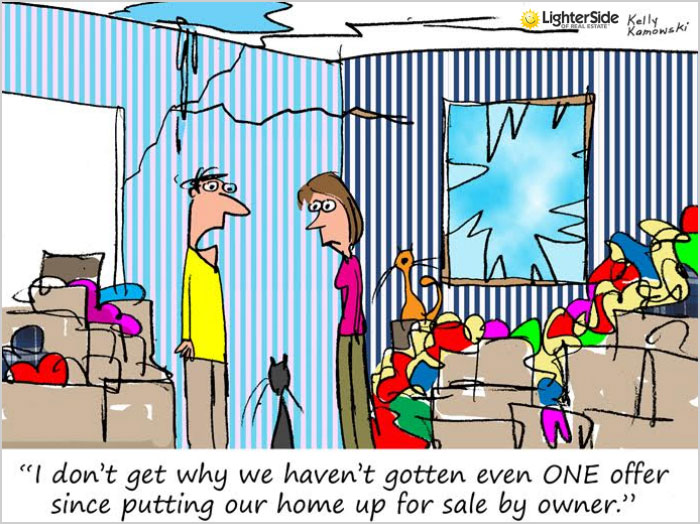 Home Value
Lucky for you, there are now plenty of publicly accessible tools available to help homeowners determine home values without the help of an agent. First, you visit several websites that each provide an estimate of what your home is worth based on a combination of algorithmic inputs -- including square footage, bedroom / bathroom count, comparable sales, lot size, market trends, and other quantitative inputs. Next, you research comparable sales which are similar homes in your local area that have sold in the past 6 months. You figure out the price per square foot so you can make an apples-to-apples comparison to your own home. If the photos haven't already been removed, you can try to determine how updated the comps are compared to yours by browsing through old pictures. And you factor in market conditions to determine whether your home would benefit or suffer from the macro climate compared to that of the comps. This gives you a baseline for two important data points:


A range of prices for what your home might be worth based on different algorithms



An idea of what similar homes sold for on a price per square foot basis


This is certainly good intel, but far from a silver bullet. Automated Valuation Models (AVMs) are helpful reference points, but you'll quickly find a huge disparity between the calculated values across the different platforms. Redfin may low ball your home's value while Zillow may overestimate, or vice versa. It's impossible to tell since they're based on proprietary algorithms pulling quantitative data. Same with comps -- you are limited by what you can glean from an off-market listing. Price per square foot is the best datapoint you can hope for, but it can be dangerous to compare two very different homes on the same metric.

What these methods fall short on is qualitative data and subjective insights that take into consideration the unique characteristics of your home versus others. Perhaps you recently remodeled. Or you added a pool. Or you have a killer view that none of your neighbors do. Or you live on a flat lot in an area that is mostly sloped. These qualities deserve to be factored into your home's valuation, but they currently are not.

Improvements
Even if you're able to come up with a ballpark estimate for what your home might be worth, how can you ensure it will stand out in the market compared to other listings? Even more importantly, are there things you can do to further boost its value? Many people make improvements to their home in order to make it more marketable when it goes to market. The trick is choosing the most impactful upgrades that will have the greatest bang for the buck. Should you replace the old carpeting or can you get away with a professional cleaning? Would a potential buyer pay more if you freshened up the kitchen with some white paint or new pulls for the cabinetry? What about all those cracked wall outlets you never got around to replacing? Would the house show better if the main light fixtures were swapped with something more fresh and modern? Should you enlist the help of a professional landscaper to help boost the curb appeal?

Before you know it, the improvement costs can get pretty pricey and you can't do everything. Which is why most people seek out a professional to help focus on what will have the greatest impact, based on the trends of the local market and "what buyers want." But even a single agent's opinion can be heavily biased. Wouldn't it be nice if there were a way to get multiple agent perspectives to determine the best marketing strategy to get a property to market?

Timing, Staging, Strategy
Similar to improvements, making decisions about the best timing to hit the market, whether you should move out and stage for the listing period, and the best go-to-market strategy will be best if worked through with a professional. Or even better, multiple professionals.

Introducing Trusty for Home Sellers
Meet Trusty. Trusty is bringing home selling into the modern age by providing multiple perspectives on prospective listings to help homeowners make the best decisions about home valuation, upgrade opportunities, optimal time to hit the market, and more. Trusty is arming home sellers with the wisdom of crowds by giving easy access to multiple qualified agents who will walk through a property and give their feedback on pricing, improvements, and ideal timing for selling. Trusty agents access the home without the seller present to eliminate any pressure from the equation. A report is generated, including a Trusty Estimate for the home value, along with shared opinions across agents. This, along with the individual reports, are delivered for the seller to review. Sellers can then decide which ideas to execute and connect with relevant home service professionals on the Trusty platform. And if a seller decides they really like a particular agent's report, they can connect directly with them about selling their home.

Like with home buyers, Trusty brings transparency, honesty, and authenticity to a transaction that has notoriously been opaque for both sides of the coin. We strive to give home sellers all the tools they need for the best possible selling experience. Our perspective is by failing to prepare, you're basically preparing to fail. Trusty prepares sellers to take control of the home selling experience and get the results they want from their real estate transaction.